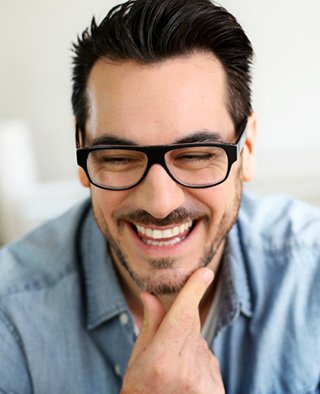 Save your Smile with this Popular Procedure
Root canal therapy is one of the most commonly performed dental procedures, with over 14 million done each year. Dr. Martin and his team have become experts so you can have a seamless root canal experience.
Your root canal treatment will save your natural teeth, so you won't need dental implants or bridges to replace them.
What leads to the need for a root canal treatment? The pulp is a collection of blood vessels and nerves that lie in the center of your tooth. When the pulp becomes infected, the pulp must be removed right away.
Why remove a damaged pulp? An infected pulp leads to extreme pain. It damages the surrounding teeth and can even cause problems throughout the body. A root canal will restore your comfort and allow you to keep your healthy natural smile.
Worried about your root canal procedure? We use local anesthesia and sedation dentistry to make your procedure comfortable. Don't hesitate to express your concerns–we will do anything we can to make your root canal stress-free. If you are experiencing pain and swelling around the tooth, or darkening of the tooth, contact our office today.
Benefits of a Root Canal
Root canals allow us to save the teeth that would otherwise require extraction.
Root canal therapy will protect the damaged tooth and the surrounding tooth so you can maintain your natural smile.
The procedure will protect you from complications like spreading infection and severe pain.
What Happens After Treatment?
After the completion of root canal therapy, we can restore the affected tooth right here in our office. We will schedule your restoration for a few weeks after your root canal. When you come in for this follow-up appointment, Dr. Martin will place a crown over the tooth to strengthen and protect it.
If you need a consultation or exam, contact Martin Dental office today.