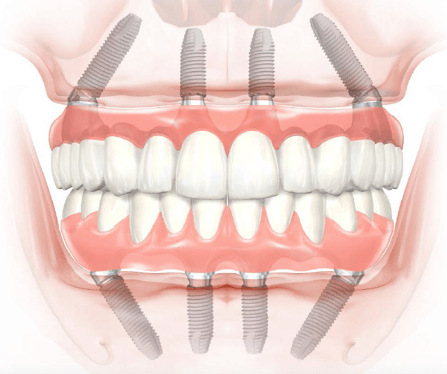 All on 4 is a dental implant procedure that is gaining steam in the dental world, and for good reason! What is "All on 4"? It refers to replacing a full arch of teeth all in one day. It is a one-time, complete restoration of not just one tooth or several, but ALL your teeth. In one day the teeth are removed and then a full mouth bridge is applied. This could be replacing the top teeth or the bottom. Some decide to do both, others opt for just the top or bottom. Mesa All on 4 Dental Implants AZ
Sound intimidating? It really isn't. With the traditional method of implants, six to ten implants are needed to secure a fixed bridge. With All on 4, you only need 4 implants. This is why is takes less time and this type of procedure does not usually require a bone graft.
Expensive? Well as a one-time payment it may seem expensive, but when you are looking at a lifetime of restoration, this type of procedure is remarkably cost effective. This is especially true if you have problematic teeth that may require several implants and other surgical remedies. Mesa All on 4 Dental Implants AZ
The most important upside to this procedure? A patient usually walks away with a full-mouth of new dental work that is fully functional!
Benefits of "All on 4" Summary: #smilewithconfidence
More cost effective than a full set of implants
More convenient and more comfortable than dentures
Minimally invasive
Quick-its all done in one single visit
Natural looking
Long Lasting
If you are interested in dental implants, we at #martindental would love to help you out!

free consultation